About Us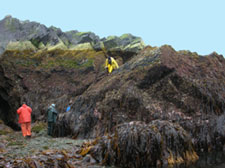 Introduction

This website has been developed to be a dynamic reservoir of information for seaweeds found in Alaska.
The searchable database contains photos and when available, detailed life histories for many seaweed species.
Over the years, Mandy Lindeberg and Dr. Sandra Lindstrom have been collecting seaweeds in Alaska for various projects. Sharing the wealth of information they have accumulated on this website has been a vision of theirs for many years.
Fellow phycologists have graciously contributed their expertise to the life history narratives with the editorial leadership of Dr. Lindstrom. It is hoped this website will facilitate more contributions. If you would like to contribute your expertise please contact Mandy or Sandra.