Coralline Disc
Clathromorphum reclinatum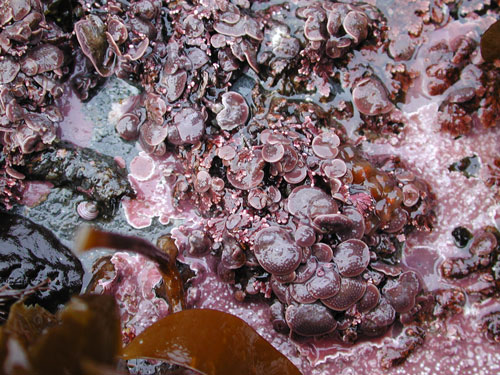 Authority:

(Foslie) W.H. Adey

North Pacific Distribution:

Aleutian Is., Alaska to southern California; Japan; Russia.

Former Scientific Names:

Lithothamnion conchatum f. reclinatum, L. reclinatum, Polyporolithon reclinatum, Neopolyporolithon reclinatum

Description: A calcareous epiphyte usually found on articulated coralline algae and Ahnfeltia, this brownish-pink, discoidal crust is 1.5 cm (0.6 in) in diameter and up to 1 mm (0.04 in) thick. It attaches to the host with small pads of tissue rather than a stalk. Habitat: This species is commonly found attached to host algae in tidepools and the low intertidal to shallow subtidal zones of semi-exposed to exposed habitats. Similar taxa: Mesophyllum conchatum(not confirmed north of British Columbia).
Click on a thumbnail to view larger version