Coarse Spongy Cushion
Codium ritteri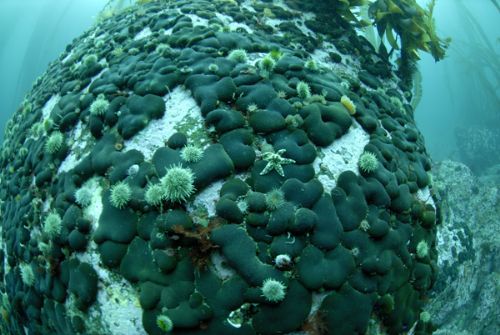 Authority:

Setchell & N.L. Gardner

North Pacific Distribution:

Bering Sea and Aleutian Is., Alaska, to northern British Columbia; Russia.

Former Scientific Names:

Description: Thallus is coarse, green spongy cushions up to 4 cm (1.5 in) tall and 10 cm (4 in) in diameter. The minute dots visible to the naked eye on the surface of the cushions are the tips of swollen filaments, a distinction from C. setchellii.

Habitat:

The species is found in semi-exposed to semi-protected areas on bedrock or large boulders in the low intertidal and subtidal to depths of 24 m (79 ft). Similar taxa:

Codium setchellii

.
Click on a thumbnail to view larger version