Witch's Hair
Desmarestia aculeata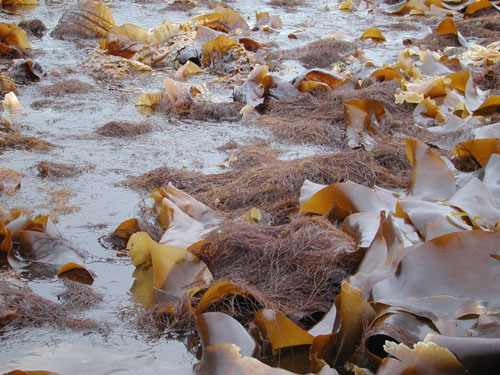 Authority:

(Linnaeus) J.V. Lamouroux

North Pacific Distribution:

Bering Sea and Aleutian Is., Alaska, to northern Washington; Russia.

Former Scientific Names:

Fucus aculeatus, Desmarestia intermedia

Description: The medium brown to almost black thallus is coarse with cylindrical to slightly flattened branches arranged in an alternate pattern and a discoidal holdfast. The main axis is stiff and up to 5 mm (0.2 in) wide, and the whole individual can be up to 2 m (6.5 ft) tall. Habitat: This perennial is found on rock (including cobble) in the low intertidal to subtidal zones from protected to semi-exposed habitats. Similar taxa: Chordaria.

Comments:
Oregon record not verified.
Click on a thumbnail to view larger version