Scouler's Surfgrass
Phyllospadix scouleri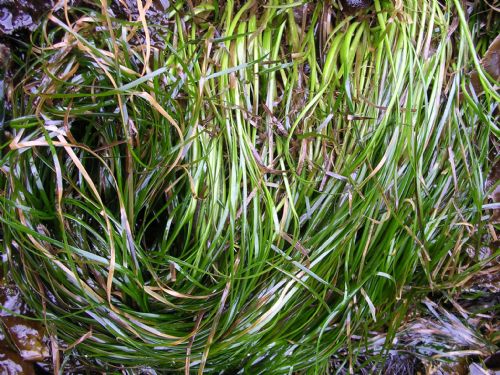 North Pacific Distribution:

Sitka Sound, Alaska to Baja California, Mexico.

Former Scientific Names:

Description: The long, narrow leaves reach 2 m (6.6') long and 0.5 cm (0.2") wide; marginal serrations cannot be felt. Three veins run the length of the leaves. The leaves are anchored to the substrate by rhizomes; each rhizome node has 6-10 roots with fine hairs. Habitat: This species is found in the extreme low intertidal to upper subtidal bedrock on partially to fully exposed shores. Similar taxa: See Phyllospadix serrulatus, which occurs higher in the intertidal and extends further north, and Zostera marina, which is usually found on soft or mixed substrates.
Click on a thumbnail to view larger version