Golden Sea Hair
Dictyosiphon foeniculaceus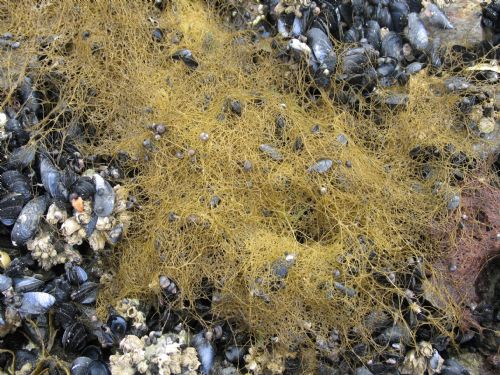 Authority:

(Hudson) Greville

North Pacific Distribution:

Arctic Ocean, Bering Sea and Aleutian Is., Alaska, to northern Washington; Japan; Russia.

Former Scientific Names:

Conferva foeniculacea

Description: Thallus is golden brown with multiple orders of branches, which are delicate, progressively narrower, and alternate, opposite or irregular. Thallus is very fine and reaches 20-40 cm (7-16 in) tall. Habitat: This annual grows epiphytically on other seaweeds, attached to rock, or forms free-floating mats in protected and estuarine habitats. The seaweeds Chordaria flagelliformis and Scytosiphon lomentaria are common hosts for this species. Similar taxa: Dictyosiphon, Desmarestia.
Click on a thumbnail to view larger version