Sea Hair
Ulva intestinalis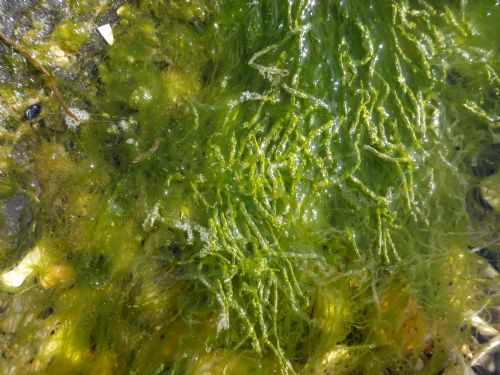 North Pacific Distribution:

Arctic Ocean, Bering Sea and Aleutian Is., Alaska, to Mexico; Korea; Japan; Russia.

Former Scientific Names:

Enteromorpha intestinalis

Description: The bright to pale green tubular thallus reaches 20 cm (8 in) or more tall and up to 5 mm (0.2 in) in width. The hollow tubes can be constricted at irregular intervals like intestines. Cells are >10 μm diam. Habitat: This species thrives in high intertidal seepage areas or tidepools, attached or free-floating. It is frequently found in protected habitats or areas influenced by freshwater. Similar taxa: Blidingia minima, Pseudothrix borealis, Ulva linza.
Click on a thumbnail to view larger version