Graceful Black Pine
Neorhodomela aculeata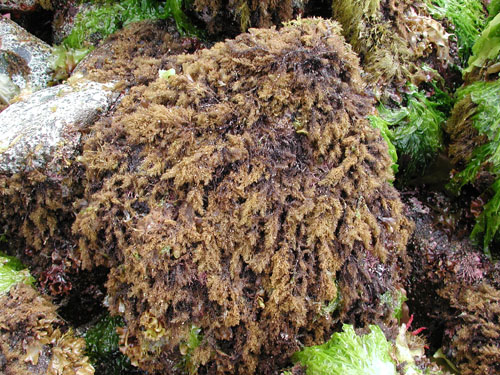 Authority:

(Perestenko) Masuda

North Pacific Distribution:

Bering Sea and Aleutian Is., Alaska, to southern Vancouver I.; Korea; Japan; Russia.

Former Scientific Names:

misidentified as

Neor

hodomela larix

Description: Thallus is coarse, reddish black to yellowish brown, reaching at least 25 cm (10 in) tall. Main axes have abundant radially arranged short determinate branches; longer branches are of indeterminate length and arise in the axils of these determinate branches. Habitat: This perennial is found on rocks in the mid to low intertidal of semi-exposed habitats. Similar taxa: Neorhodomela larix, N. oregona, Odonthalia floccosa.
Click on a thumbnail to view larger version