Eelgrass Brown Blade
Punctaria lobata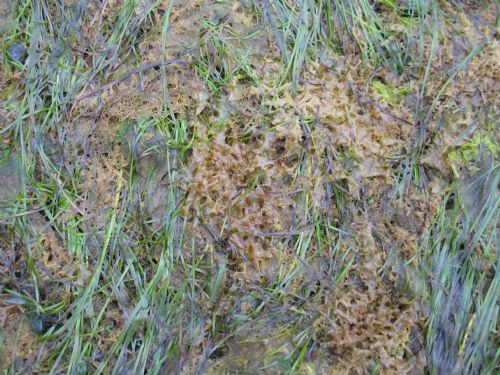 Authority:

(D.A. Saunders) Setchell & N.L. Gardner

North Pacific Distribution:

Kodiak Archipelago to Southeast Alaska.

Former Scientific Names:

Homeostroma lobatum

Description: The thallus is a small, pale to dark olive brown blade, 10 cm or more tall, with margins smooth or irregularly to deeply lobed, and is 2-4 cell layers thick, with medullary (central) cells no more than 2-3 times the size of cortical (outer) cells. The outer cells have numerous discoidal chloroplasts and pyrenoids. Habitat: This summer ephemeral occurs as an epiphyte on Zostera marina in the mid intertidal to shallow subtidal of protected habitats. Similar taxa: Petalonia, young Saccharina.
Click on a thumbnail to view larger version