Flat Pompom Kelp
Lessoniopsis littoralis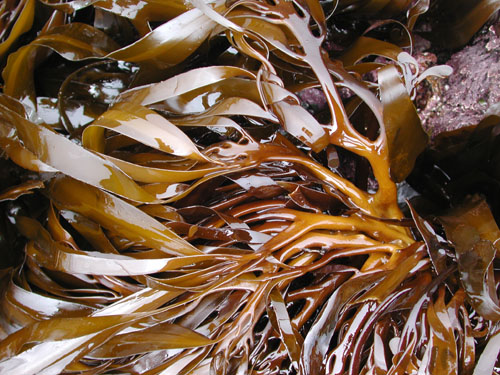 Authority:

(Tilden) Reinke

North Pacific Distribution:

Kodiak Archipelago, Alaska, to Monterey County, California.

Former Scientific Names:

Lessonia littoralis

Description: Thallus of this medium to dark brown kelp has a branched holdfast (haptera) and a trunk-like stipe that is profusely dichotomously branched, with each branch terminating in a strap-like blade with midrib. This kelp can reach 2 m (6.5 ft) long. Reproductive sporophylls are located near the base of older blades. Habitat: This perennial kelp is found on rock in the very low intertidal to shallow subtidal in exposed habitats. Similar taxa: Laminaria longipes also has clustered strap-like blades but a rhizomatous holdfast.
Click on a thumbnail to view larger version