Southern Stiff-stiped Kelp
Laminaria setchellii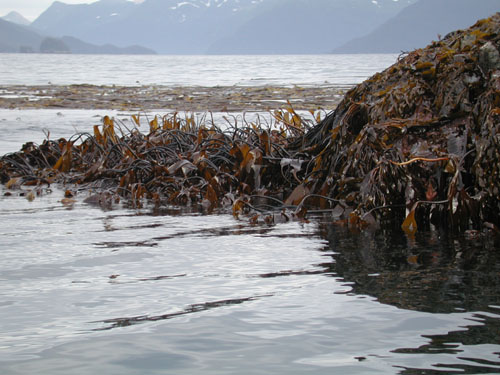 North Pacific Distribution:

Kenai Peninsula, Alaska, to Baja California, Mexico.

Former Scientific Names:

Hafgygia andersonii, Laminaria andersonii

Description: Thallus is medium to dark brown with a branched holdfast (haptera), a rigid, erect stipe up to 80 cm (2.7 ft) long with microscopic mucilage ducts well inside the stipe tissue, and a thick blade up to 80 cm (31 in) long and 25 cm (10 in) wide. The blade is deeply split almost to the base, forming nearly uniform segments. Habitat: This perennial is found on rock in the extreme low intertidal and upper subtidal and prefers exposed habitats. Similar taxa: Saccharina dentigera, S. subsimplex.
Click on a thumbnail to view larger version