Sea Cabbage
Saccharina sessilis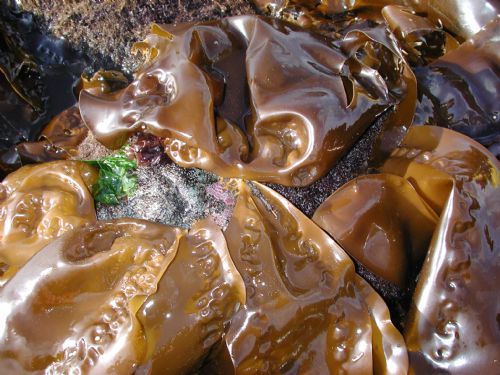 Authority:

(C. Agardh) Kuntze

North Pacific Distribution:

Aleutian Is., Alaska, to Monterey County, California; Commander Is., Russia.

Former Scientific Names:

Hedophyllum sessile, Laminaria sessilis

Description: Thallus of this kelp is unique in that it lacks a stipe. It is medium to dark brown with a branched holdfast (haptera) and has a somewhat thick blade up to 1.5 m (5 ft) long. The blade can be bullate (appear puckered) and become torn with age. Habitat: This perennial kelp is found on rock in the mid to low intertidal from semi-protected to semi-exposed habitats. Specimens from more exposed habitats tend to be smooth with many splits. Similar taxa: Saccharina subsimplex.
Click on a thumbnail to view larger version