Long Laver
Porphyra sp.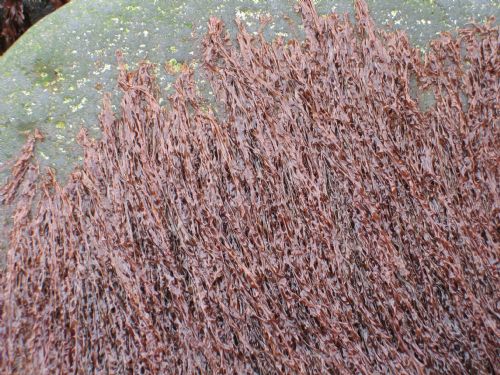 North Pacific Distribution:

Bering Sea and Aleutian Is. to northern Southeast Alaska; Russia.

Former Scientific Names:

P. pseudolinearis

Description: Thallus is a linear blade, one cell layer thick, reaching about 40 cm (16 in) long and 2 cm (0.75 in) wide, usually reddish pink or reddish brown. Male cells are in whitish margins; fertilized female cells are in hieroglyph-like streaks across distal ends of separate female plants. Habitat: occurs on low intertidal rock in spring to early summer. In western Aleutians, this species is found in the high to mid intertidal, where it is more brownish in color.
Click on a thumbnail to view larger version