Red Wing
Ptilota sp.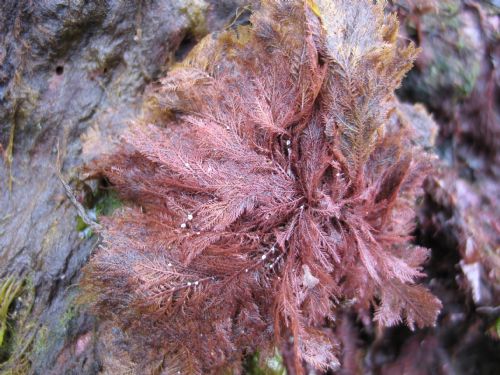 North Pacific Distribution:

Bering Sea and Aleutian Is. to northern Gulf of Alaska; Japan; Russia.

Former Scientific Names:

misidentified as P. filicina

Description: Thallus is dark red, dull, finely branched, reaching 25 cm (9 in) tall; with branching in opposite pairs, with both branchlets having the potential to elongate, branch and produce reproductive structures although usually one of a pair develops ahead of the other. Habitat: This annual is found on rock in the low intertidal to subtidal of semi-protected to semi-exposed habitats. Similar taxa: Neoptilota asplenioides, Ptilota serrata.
Click on a thumbnail to view larger version