Coastal Regions & Maps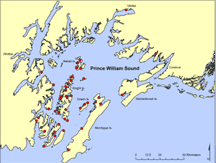 Prince William Sound
PWS is a nearly enclosed embayment over 9,000 Km2 with an average depth of 300m. The perimeter is dominated by glacially carved fjords and some 20 glaciers calve directly into PWS.

PWS is part of the Chugach National Forest, the second largest in the nation with 5.4 million acres.

The Sound offers a variety of deep and shallow habitats from extensive intertidal mudflats to pinnacle islands, deep basins, and salmon streams.