Coastal Regions & Maps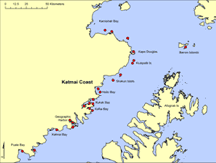 Katmai: Shelicof Seacoast
The Shelicof seacoast extends over 160 km in the Katmai National Park and Preserve. The Aleutian Range inland from the coast provides a dramatic back drop with volcanic peaks up to 7,600 feet.

The Shelikof Strait seacoast is a rugged, divers-ified area of narrow to wide bays, long and narrow beaches/reefs, steep cliffs, canyons, and water-falls. These features and an active volcanic history have created a unique coastal region.