Coastal Regions & Maps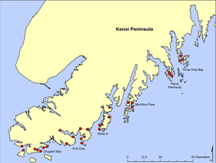 Kenai Peninsula
The Kenai Peninsula is dominated by the Harding and Grewingk-Yalik icefields and much of this region falls in the Kenai Fjords National Park.

These icefields have chiseled over 275 km of fjords and jagged peninsulas that plunge into the Gulf of Alaska. There are 10 tidewater glaciers within the park.

Exposed high energy shores dominate this coastline providing prime habitat for marine flora and fauna.